Aurora High School senior Livia Ward is the 2011 winner of the $1,000 Aurora Historical Society's Veron Biggar Scholarship. Livia created a PowerPoint presentation entitled.. →
We are slowly re-organizing and re-indexing all items that were moved from the storage room during the flooding. Here are some photos of the room with the new shelving and organizational floor plan. All items are being entered into our Past Perfect Software catalog as we go.
.. →
by Marcelle Wilson
The Aurora Historical Society often teams up with members of the Aurora Memorial Library to provide programming for the community.  The library staff has planned many fine programs for this year and AHS will participate in five of them. →
January 5, 2011
With a new year upon us the Aurora Historical Society is excited about the "New Look" that is taking place within the Museum's archive storage area.  While the work is still not finished, countless hours of work on the part of our director Marcelle Wilson, members of.. →
The 2010 Aurora High School Girls Basketball team is on a winning streak, hopefully to end the season with the conference championship. If history repeats itself, they will join their 1924, 1925, and 1927 counterparts in sharing this honor. The Aurora High School Girls Basketball teams of 1924,.. →
Refurbishing the storage room and other areas of the basement is almost complete. Mold damage was remediated by removing the lower 4 ft of drywall. A backup sump system and a waterproofing system was also installed by the city. In these photos you can see the mold damage and the extensive plastic.. →
A Docent Appreciation luncheon was held held on Tuesday, Sept. 21 at Paws in The Bertram. Without these volunteers we would not be able to accommodate and welcome our visitors. Here are a few pics from the day.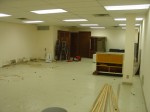 Our storage room has had water infiltration from a faulty air conditioning system. To abate the mold we have had to empty that room and move our collection to table tops in our museum and other display spaces. Most of the items were undamaged by water but everything was affected by mold growth resulting.. →